Back To Stories
Carbon offsetting: your questions answered
Answering your questions about carbon offsetting, why and how Namene Solar can help you offset your emissions.
Namene Solar is tackling climate change on three fronts.  Firstly, by helping to decarbonise the economy by powering businesses with quality, affordable, clean solar light and power. Secondly, by educating children in classrooms about solar technology, and finally, by helping companies offset their unavoidable emissions with our carbon offsetting projects.  
 The voluntary carbon market, where carbon offsets are registered and traded, is growing.  
Countries and companies around the world are ramping up their commitments to cut carbon emissions, and carbon offsets – also called carbon credits – are often an important part of their plans. 
There are lots of questions about the different kinds of carbon offsets available on the market, how they work and what makes them effective, and how to avoid 'greenwashing'. 
 So we've set out to answer all your questions about carbon offsetting here.  
Q: What is a carbon offset? 
A carbon offset is a tool to compensate for carbon dioxide (CO2) being released into the atmosphere by either reducing, removing, avoiding or sequestering carbon emissions. Carbon offsets are also referred to as carbon credits.  
These offsets are created when an action, project or programme can prove its activities reduce carbon emissions. Once they have been verified by an independent, authorised third-party certification body, these carbon offsets or carbon credits are issued in a carbon registry with a unique serial number where they can be traded on the voluntary carbon market. One carbon credit is equal to one tonne of CO2 avoided or removed from the atmosphere.  
 There are different types of carbon offsets, like Reducing Emissions from Deforestation and Forest Degradation projects (REDD+), nature-based solutions and community schemes to implement new, less carbon intensive types of agriculture and labour.  
 Carbon offsets are also generated by renewable energy technologies like wind and solar. This is how Namene Solar offsets carbon emissions, with our solar lights that directly replace toxic, carbon-emitting kerosene lamps and other fossil fuel sources used for lighting.  
Q: What is the voluntary carbon market? 
The voluntary carbon market is where private investors, governments, non-governmental organisations, and businesses can voluntarily purchase carbon offsets to compensate for their emissions, that are not part of carbon regulations, to help them reach their carbon reduction targets.  
The proceeds from the sale of these voluntary emissions reductions (VERs) enable the development of carbon-reduction projects that often deliver significant additional social and environmental co-benefits. 
The voluntary carbon market is driven by the private sector and has played a meaningful part in accelerating the deployment and transition for clean technologies around the world.  
A robust voluntary carbon market plays an important role in supporting the Paris Agreement climate goals: It can mobilise significant amounts of finance, harness private capacity, and empower communities to benefit from mitigation actions. 
Q:
What is the role of 
carbon 
offsetting 
in climate action for organisations and individuals
?
 The important thing to understand is that carbon offsetting will not singlehandedly halt the climate crisis. Offsetting should not be used as an excuse for inaction. Using offsets or claiming carbon neutrality should include clear commitments and targets towards decarbonising an organisation's carbon footprint.  
 Two things need to happen to address global heating and reach net zero. We need to drastically cut the amount of carbon entering the atmosphere, whilst also removing existing carbon emissions and avoiding stopping further  emissions at the source. That i's where carbon offsetting comes in.   
A credible corporate climate commitment begins with setting an emissions reduction target that covers both a company's direct and indirect greenhouse gas emissions. Aligning such a target's ambition level with the latest climate science is widely seen as best practice. In other words, the target needs to be in line with the level of decarbonisation needed to limit global warming to below 2 degrees Celsius more than preindustrial levels at a minimum—and ideally be in line with a 1.5-degree target, which scientists estimate would reduce the odds of triggering the most dangerous and irreversible effects of climate change. 
 First, companies need to understand and measure their carbon footprint. Then they should set concrete plans and targets to cut emissions from within their own supply chains and operations as much as possible. As a next step they can purchase carbon credits to either to compensate for emissions that it has not been able to eliminate yet or to neutralize residual emissions that cannot be further reduced due to prohibitive costs or technological limitations.  
Q
: What is the difference between carbon emissions reductions, avoidance, removals or sequestration? 
These are different types of carbon offsets, each describing a different mechanism for drawing down the overall amount of emissions by either removing it from the atmosphere, or making sure it never enters it in the first place. 
Carbon removals can refer to projects like forest protection which protect forests from logging and to ensure trees continue to take CO2 out of the atmosphere. Carbon reduction or avoidance can refer to projects like Namene Solar's which stop carbon emissions at the source by replacing the polluting source which clean technology.  
 Carbon sequestration is most commonly mentioned in connection to nature-based solutions, which claim that carbon can be sequestered or absorbed by vegetation and soil – like peat and the natural carbon sinks in forests. There are two sticking points with this type of carbon offset. Firstly the  amount of land required to planet enough trees sequester enough carbon is vast. Secondly, it takes around 10 years for trees to have grown enough to start absorbing carbon.  
 These are valid issues that illustrate the complexity of the carbon market and how it is not possible to simply plant more enough trees to compensate for current carbon emissions. The climate crisis demands urgent action and carbon offsetting is most effective when it is used for an immediate reduction or avoidance of carbon – such as substituting fossil fuels with renewables to accelerate the transition to clean energy while delivering additional development impacts.  
Q: How do solar lights cut carbon emissions?
Right now, there are around 800 million people in the world who do not have reliable access to modern electricity. They have no alternative to fossil fuel-based lighting like kerosene lamps and candles to light their homes. Not only do these outdated lamps pollute the atmosphere with CO2 and contribute to global heating, they are also expensive and dangerous. They are directly linked to lung cancer, respiratory diseases, sore eyes and even cause deadly house fires.  
Namene Solar's purpose is to give everyone – no matter where they live – an affordable, safe alternative to dangerous fossil fuels. Through carbon offsetting, we have an opportunity to reach more people, and bring them access to modern energy for the first time.   
Our award-winning solar lights replace kerosene lamps, and prevent the deadly fumes they emit from ever entering the atmosphere. They give families a truly affordable and clean alternative to fossil fuel lighting whilst cutting the carbon at the source. Every single one of our lights avoids 92kg CO2 each year. From the moment our lights are deployed, they improve the families health, save money and help children read and study safely after dark.  
Our carbon offsetting projects have been through a rigorous certification process with Gold Standard – one of the leading voluntary carbon standards worldwide. Right now we are rolling out our solar lights offsetting projects in four provinces in Zambia and nationwide in Namibia with other countries in the project pipeline.   
Q: How do you know how much carbon has been avoided?
As part of the certification process to receive Gold Standard certified status – the highest and most stringent standard – our projects have been through years' long consultation, baseline assessment, data-collection and certification processes, following approved methodologies to conservatively determine how much carbon is reduced by our solar lights replacing fossil fuel lighting. This amounts to 92kg CO2 per light, annually.  
And while reducing carbon is one way our solar lights are changing the planet for the better, they are also life-changing for families that use them. As part of our commitment to thorough project reporting, we are measuring and reporting its impact against three Sustainable Development Goals.  
 SDG1: No poverty 
SDG7: Access to clean, modern energy. 
SDG13: Climate action.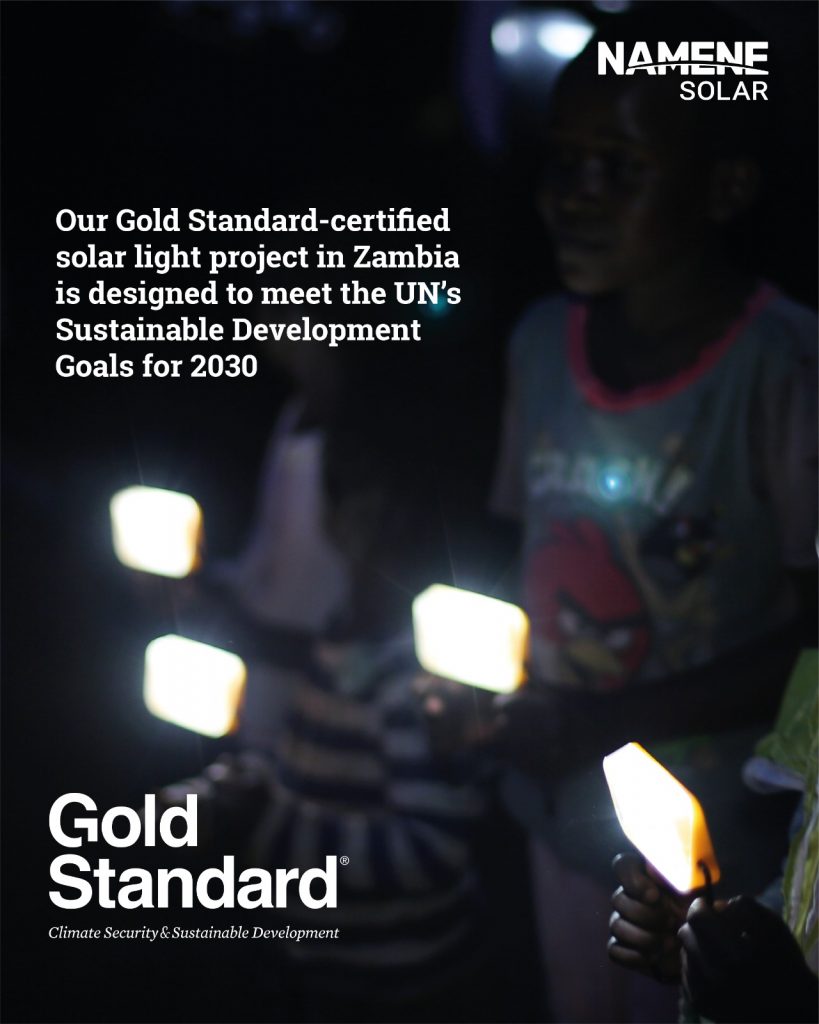 Q: What makes 
Namene
 Solar's carbon offsets different?
With our carbon offsets we're tackling two global issues with one solar solution. Not only are we slashing carbon emissions from kerosene lamps, we are also enriching and improving people's lives with modern energy.  
By replacing fossil fuel-based lighting, we make people's homes safer, minimise their energy costs and improving their life chances by helping children study safely by solar light after dark. Without our solar lights, these children are forced to use dangerous kerosene lamps. The fumes from the noxious gases irritate the children's eyes so much, that often teachers can tell which students are doing their homework by the redness of their eyes. 
We know that our lights have real economic, health and educational benefits from the moment they are deployed. That's why we're committed to bringing truly affordable solar to off-grid and rural homes, and carbon offsetting helps us reduce emissions and reach more people, faster. Our carbon projects are designed to benefit millions of people by getting first time access to clean light and a pathway to step onto the clean energy ladder. 
Q: What is the difference between carbon neutral and net zero? 
It's a common misunderstanding that carbon neutral and net zero can be used interchangeably to refer to a companies' plans to decarbonise. This is not the case. They're actually two different concepts and as usual, the devil is in the detail.  
Companies can go carbon neutral by offsetting all of their current emissions with carbon credits from avoidance and removal projects to compensate for their emissions immediately.  
But reaching net zero requires more than simply offsetting existing emissions. Companies need to actively reduce their emissions to as close to zero as possible, which will then bring down the overall amount of carbon they need to compensate for with through a carbon offset scheme. A company, country or organisation has only achieved net zero  when it reaches its science-based carbon reduction target and compensates for all its remaining emissions through carbon removals projects. 
 Q:
Is carbon 
offset
ting
 the only way to 
finance these solar light distribution projects?
Namene Solar uses carbon financing as a vehicle to accelerate the uptake of solar lighting and speed up the energy transition from fossil fuels to renewables.  
To the extent possible, we strive to build relationships and partnerships with VER buyers to ensure they connect more directly with the project's impact and if suitable, to involve them in the pre-financing or even leveraging their supply or distribution networks to accelerate the distribution of lights.  
Other climate financing and funding mechanisms can be used, like results-based-financing (RBF), typically used by development agencies and multilateral banks, as well as impact investment and climate financing that does not rely on offsets but rather that claims are around contributing with finance for the host country to achieve their goals towards their Paris Agreement commitments.   
Creating partnerships to collectively solve the climate and energy access challenges requires collaboration and innovative ways to accelerate action. 
Q
: How can I offset my carbon emissions? 
To find more about our carbon offsetting projects in Zambia and Namibia head to www.namenesolar.com/action  
Wherever possible we like to build strong links with the organisations and companies looking to carbon offset. By connecting them to our projects at the development stage, we have an opportunity to engage in a meaningful dialogue about the impact of solar lights in the regions where we work rather than selling VERs in a disengaged, off-the-shelf one-size-fits all model.    
Email climate@namenesolar.com to find out how you can take the first steps to decarbonise with Namene Solar and support our carbon offsetting with solar lights.