Back To Stories
Carbon savings and clean light for communities in Namibia
Our team on the ground in Namibia are now delivering our solar lights to communities and informal settlements, as part of our countrywide climate project. 
Over 3000 lights have now been distributed across informal settlements in Katutura, including; Havana, Ombili, Okuryangava,  Hakahana, Oshitenda, Okahandja park, Kilimanjaro and Goreangab.
Namene Solar's Stakeholder manager in Namibia,  Hometeni Kapewangolo said, "It is great to see people receiving their lights, the feedback we have received has been overwhelmingly positive. People are impressed with the quality of the lights and the savings they will make on candles and kerosene lamps."
The lights are able to be sold at a significantly discounted cost as they are subsidised by carbon finance from the sale of carbon credits.
Carbon credits are issued after the carbon reduction, removal or avoidance activity has taken place. Which means that, although the first carbon certificates for this project are not expected until September, thousands of people are already benefiting from access to solar lights.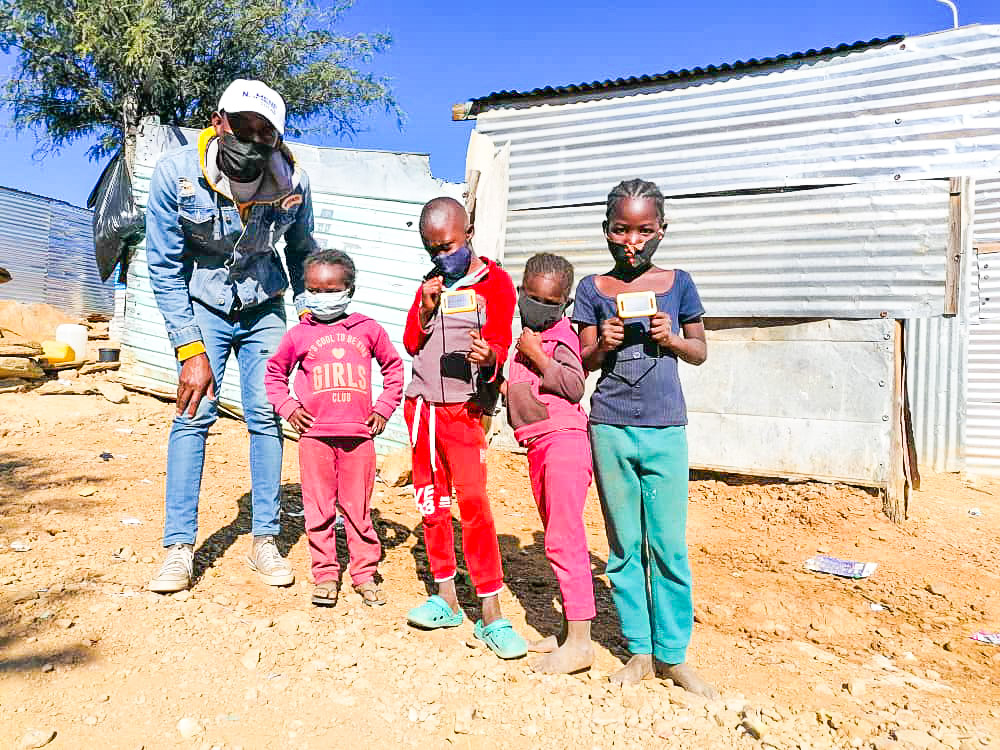 What does access to clean light mean for people living in informal settlements in Namibia?
Our project in Namibia covers the whole country, but specifically peri-urban areas and informal settlements. These peri-urban areas are on the outskirts of Namibia's capital city Windhoek, and have spread beyond the reach of the grid.
Some of these areas may have access to grid energy, although it is unreliable and intermittent. At any moment, households can be plunged into darkness without any idea when they will have their lights come back on.
In these instances, many turn to candles or kerosene lamps to light their homes. This is a toxic and dangerous form of light that not only emits carbon dioxide as they burn, but poses a significant risk of house fire and fatality. Using them in a confined space is a health risk. They cause respiratory diseases and irritate the eyes.  But, for many living in off-grid or weak-grid areas of Namibia this is their only affordable option.
The International Energy Agency (IEA) defines energy access as access to affordable, reliable and modern energy for all. This includes universal access to electricity and clean cooking, a greater share of renewables in the energy mix, and a doubling of the rate of improvement of energy efficiency. For many recipients of these solar lights, this is their first step on the clean energy ladder.
Why solar lights?
In the long term, improved grid infrastructure or reliable, affordable decentralised renewable energy is needed in these areas. But our solar lights are lightweight and portable, which means they can be quickly deployed, giving access to small-scale solar light to hundreds of thousands of people very rapidly.
These lights are highly cost-effective, and unlike some pay-as-you-go services, they only require a single, nominal payment. After this initial purchase, they continue to provide clean light day after day, with up to 15 hours of light from a single charge.
Our SM100 solar lights
meet VeraSol quality standards, are designed to last for at least 7 years. They're made to be tough and durable, easily portable and ideal for use at home as a multifunctional task light, or reading light.
Additionally, there are other benefits of solar lights that aren't as obvious. Research shows that access to solar lighting helps school children study after dark which boosts their educational attainment. They can read safely, with a high-quality source of light that won't burn their eyes, which means they can study for longer.
The same is true for working family members. Data from impact measuring organisation
60_decibels
shows that nearly one-fifth of customers use their solar product or service for income-generating activities. As a result, homes with improved energy access benefit from increased incomes. The same report showed that small scale solar lights and lanterns have the biggest impact of all solar products, for off-grid families. This is because they represent the first step on to the clean energy ladder.
For those in Namibia receiving our solar lights, these benefits and positive impact can be immediate.Over the next two years,
652,000 solar lights will be distributed across Namibia, avoiding 252,000t CO
2
 and benefitting 1.2 million people. On average households save $522 by cutting out the purchase of kerosene for lamps. 
If you want to find out more about our projects contact us at climate@namenesolar.com